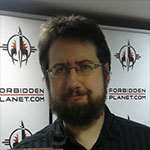 Al Ewing
is probably best known in his native UK for his work on JUDGE DREDD for 2000AD, where among other things he was one of the three writers behind the critically-lauded crossover "Trifecta". He's also the co-creator of various other strips for the comic, including ZOMBO, THE ZAUCER OF ZILK, and DAMNATION STATION, which unfortunately doesn't begin with a Z.
Over in the US, though, he's better known for his work on things like MIGHTY AVENGERS for Marvel, MARS ATTACKS JUDGE DREDD for IDW, and JENNIFER BLOOD for Dynamite Entertainment.
Non-comics readers, meanwhile, might be aware of him for his prose work - his sixth novel, THE FICTIONAL MAN, was recently released from Solaris Books to considerable acclaim.[1]
Scheduled days
Edit
All days
References
Edit
Ad blocker interference detected!
Wikia is a free-to-use site that makes money from advertising. We have a modified experience for viewers using ad blockers

Wikia is not accessible if you've made further modifications. Remove the custom ad blocker rule(s) and the page will load as expected.