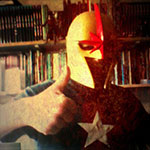 Andy Lanning
has been writing and inking comics for over twenty years and has written and inked almost all of his favourite characters in that time. He is best known for his writing run (with Dan Abnett) on Guardians of the Galaxy which is currently being made into a movie by James Gunn as well as for inking his long time collaborator Phil Jimenez on so many things he lost count! He is currently working on some top secret stuff and is very busy indeed!
[1]
Scheduled days
Edit
All days
References
Edit
Ad blocker interference detected!
Wikia is a free-to-use site that makes money from advertising. We have a modified experience for viewers using ad blockers

Wikia is not accessible if you've made further modifications. Remove the custom ad blocker rule(s) and the page will load as expected.