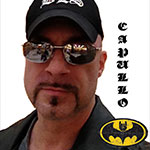 Greg Capullo
is a self-taught Illustrator and the current artist on DC Comics BATMAN! Prior to this, Greg is best known for his 80 issue run on Image Comics title SPAWN, created by Todd McFarlane. Greg has also worked on other popular titles such as X-FORCE for Marvel Comics, and is the creator of The CREECH, a Scifi/Horror comic published by Image Comics. Greg has provided art for Blizzard Entertainment's World of Warcraft, contributed lead character designs for the award winning HBO animated SPAWN series, was the cover artist for many popular musical groups including Korn and Disturbed, and Five Finger Death Punch's soon to be released CD The Wrong Side of Heaven, the Righteous Side of Hell!
[1]
Scheduled days
Edit
References
Edit
Ad blocker interference detected!
Wikia is a free-to-use site that makes money from advertising. We have a modified experience for viewers using ad blockers

Wikia is not accessible if you've made further modifications. Remove the custom ad blocker rule(s) and the page will load as expected.