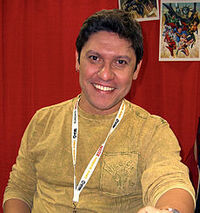 Ivan Reis is a Brazilian comic book artist. He is known for his work on books such as Marvel Comics' Captain Marvel, and DC Comics' Green Lantern books. According to collaborator Geoff Johns, Reis' drawing style resembles a combination of Alan Davis and Neal Adams.
He will be one of the featured guests at the New York Comic Con 2013.
Ad blocker interference detected!
Wikia is a free-to-use site that makes money from advertising. We have a modified experience for viewers using ad blockers

Wikia is not accessible if you've made further modifications. Remove the custom ad blocker rule(s) and the page will load as expected.