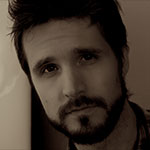 Lee Bermejo
is an award winning artist whose comic book work includes BATMAN/DEATHBLOW, LUTHOR, RORSCHACH, and The New York Times best-selling graphic novel JOKER, all of which were done in collaboration with writer Brian Azzarello. His other work for DC Comics includes GLOBAL FREQUENCY, SUPERMAN/GEN 13, HELLBLAZER, several dozen painted covers and the best-selling graphic novel BATMAN: NOEL, which Bermejo wrote and illustrated. He currently lives in Italy with his wife Sara.
[1]
Lee Bermejo will be signing at the Splash Page Comic Art booth #2405.
Scheduled days
Edit
References
Edit
Ad blocker interference detected!
Wikia is a free-to-use site that makes money from advertising. We have a modified experience for viewers using ad blockers

Wikia is not accessible if you've made further modifications. Remove the custom ad blocker rule(s) and the page will load as expected.