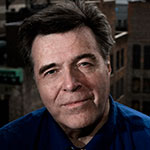 Neal Adams'
had legendary 'runs' on Batman, X-Men, Green Lantern-Green Arrow and Deadman. Adams rescued Batman from his campy TV show, and transformed him into his present "Avenger of the Night." When people say 'modern Batman,' they mean Neal Adams' Batman. His run directly led to the realistic incarnation seen in "Batman Returns", and the "Dark knight" movies.
He godfathered a generation of new talent, brought down the comics code by introducing "relevant comics" and gave America it's first black comic book superhero.
While fighting for creator's rights, he convinced publishers to return original art to its creators, improved standards of comic book production, forced publishers to pay royalties…and crusaded against work-made-for-hire in the copyright law.
In addition, Neal has launched a successful production company - Continuity Studios – which produced the popular Nasonex Bee Campaign and introduced us to the concept of Motion Comics. He designed the popular Terminator, T2 4-D ride, and the Spiderman Rides at Universal Studios.
While setting-up his own characters with various Hollywood Studios and Producers, Neal is currently writing and drawing "Batman Odyssey", for DC, a 12 issue series, writing and drawing a 5 issue X-Men series for Marvel, and his own project, "Blood" , is currently being serialized in "Dark Horse Presents [1]
Scheduled days
Edit
All days
References
Edit
Ad blocker interference detected!
Wikia is a free-to-use site that makes money from advertising. We have a modified experience for viewers using ad blockers

Wikia is not accessible if you've made further modifications. Remove the custom ad blocker rule(s) and the page will load as expected.