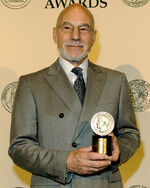 Sir Patrick Stewart
, OBE (born 13 July 1940; age 73) is an Emmy Award and Golden Globe-nominated, classically-trained English actor who has been playing a wide range of parts for much of his life. He has achieved great public success for his role as Captain Jean-Luc Picard, whom he portrayed for seven seasons on Star Trek: The Next Generation and in its feature film spin-offs. He is also known for his portrayal of Professor Charles Xavier in the hit X-Men films, and as the voice of Emperor Uriel Septim VI in the video game The Elder Scrolls IV: Oblivion. Despite his success in film, television and video games, he still considers his roots in Shakespearean theater the most important aspect of his career.
[1]
Scheduled days
Edit
References
Edit
Ad blocker interference detected!
Wikia is a free-to-use site that makes money from advertising. We have a modified experience for viewers using ad blockers

Wikia is not accessible if you've made further modifications. Remove the custom ad blocker rule(s) and the page will load as expected.