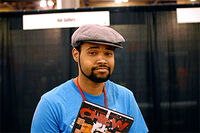 Rob Guillory (born June 2, 1982) is an Eisner Award-winning American comic book artist. Born, raised and currently based in Lafayette, Louisiana,[1] Guillory is most known for his art on Chew, published by Image Comics.
He will be one of the guests at the New York Comic Con 2013.
Ad blocker interference detected!
Wikia is a free-to-use site that makes money from advertising. We have a modified experience for viewers using ad blockers

Wikia is not accessible if you've made further modifications. Remove the custom ad blocker rule(s) and the page will load as expected.