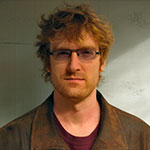 Ryan North
is the author of the long-running Dinosaur Comics (qwantz.com), the acclaimed Adventure Time comic series (kaboom-studios.com), and the record-breaking To Be Or Not To Be: That Is The Adventure (hamletbook.com) - a choose-your-own-path re-imagining of Hamlet. He also co-edited the bestselling Machine of Death anthology (machineofdeath.net). He studied Computational Linguistics at U of T (utoronto.ca). He lives in Toronto with his wife Jenn and dog, Noam Chompsky (chompsky.tumblr.com).
[1]
Scheduled days
Edit
Saturday
References
Edit
Ad blocker interference detected!
Wikia is a free-to-use site that makes money from advertising. We have a modified experience for viewers using ad blockers

Wikia is not accessible if you've made further modifications. Remove the custom ad blocker rule(s) and the page will load as expected.