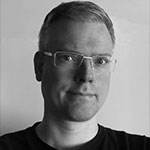 Steve McNiven
has been working at Marvel comics for almost all of his professional career, drawing a wide range of characters including Spider-man, Wolverine and the Avengers. He has collaborated with some of the best writers in the business, from Brian Bendis on Guardians of the Galaxy, Ed Brubaker on Captain America and Warren Ellis on Ultimate Secret, to Mark Millar on Civil War and Old Man Logan. Currently he is hard at work drawing Uncanny Avengers with Rick Remender.
[1]
Scheduled days
Edit
(Appearing exclusively at The Artist's Choice booth in Artist's Alley)
References
Edit
Ad blocker interference detected!
Wikia is a free-to-use site that makes money from advertising. We have a modified experience for viewers using ad blockers

Wikia is not accessible if you've made further modifications. Remove the custom ad blocker rule(s) and the page will load as expected.