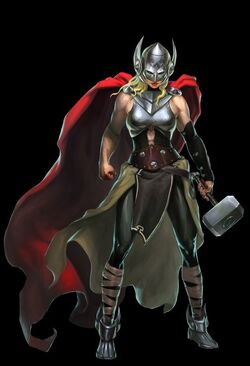 Marvel fans heard the announcement a while back that a female Thor would be debuting, but it looks like we'll get our first look at the goddess in the Marvel Puzzle Quest game! According to GamenGuide, "Marvel Puzzle Quest, the Bejeweled-style gem-displacing game featuring all your favorite Marvel heroes, is bringing Thor to the game." Players can test her skills out starting October 17! This one-year anniversary bonus character will be a legendary (four star) character reward for Season VII, and Devil Dinosaur will also be joining the game.
Can't wait until October 17? If you're headed to New York Comic-Con, check out Demiurge Studios at their NYCC booth! Go to Booth #347 inside the Javits Center during show hours on October 9 - 12, 2014 and check out the extended gameplay on tablets and PCs that the studio will be providing. Even better, get some tips from actual members from the team! There will also be a raffle at the booth to win free in-game resources.
Source: GamenGuide
---
---
Ad blocker interference detected!
Wikia is a free-to-use site that makes money from advertising. We have a modified experience for viewers using ad blockers

Wikia is not accessible if you've made further modifications. Remove the custom ad blocker rule(s) and the page will load as expected.