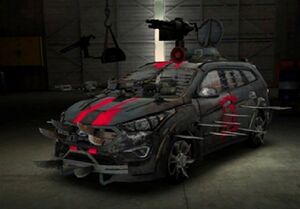 Hyundai and AMC teamed up to create an app that allows fans to create their vision of the ultimate zombie survival vehicle. Then they picked the vehicle seen here, designed by Anson Kuo, from more than 86,800 fan submissions... and built it! According to Hyundai's press site, the heavily modified Hyundai Santa Fe crossover's "special" features include:
knife blades
an automatic crossbow
razor-wired windows
three machine guns
a samurai sword
aluminum armor
muffler silencer
Stop by Booth #542 and check out the real thing for yourself!
Design your own Zombie Survival Machine with Hyundai's Walking Dead Chop Shop app!
Ad blocker interference detected!
Wikia is a free-to-use site that makes money from advertising. We have a modified experience for viewers using ad blockers

Wikia is not accessible if you've made further modifications. Remove the custom ad blocker rule(s) and the page will load as expected.